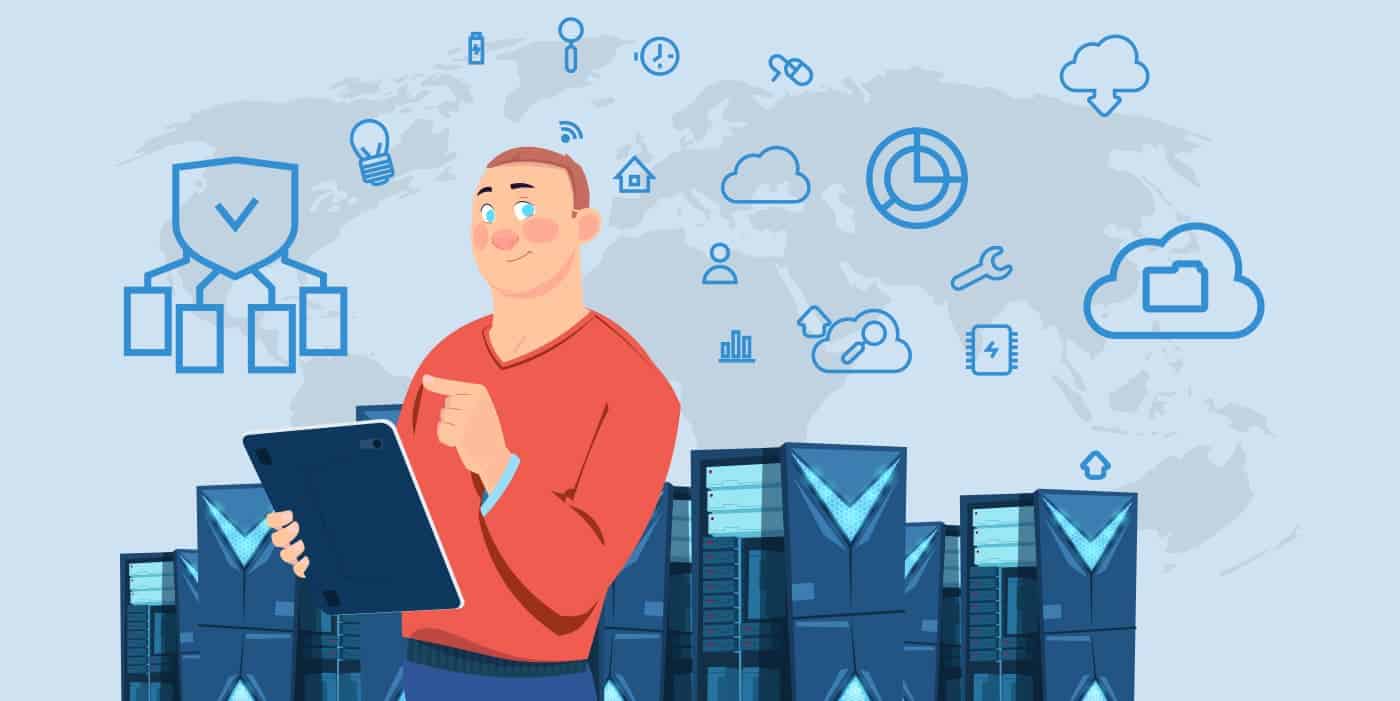 Predictable low cost
Can managed services cut down cost? The answer is yes. It can also make your IT expenses more predictable. With managed services, your costs are neatly packaged into a set amount paid on an annual or monthly basis. An in-house IT team, on the other hand, comes with many more frequent and unexpected expenses that can quickly drain your budget.
Networks come with a lot of equipment that needs to be maintained and sometimes repaired or replaced. MSPs provide maintenance as well as repairs as part of the contract, so a fix that might cost you thousands of dollars out of pocket is absorbed by the provider. This model shields your budget from extreme fluctuation, improving the stability of your business overall.
Small businesses benefit immensely from managed services because the up-front cost to start is so much lower. When a business starts from scratch, the initial costs of hiring and training a team while simultaneously paying for the servers and other equipment necessary can be financially overwhelming.
Scalability
The price tag associated with maintaining an in-house IT team is a big one, and that's why you often see teams that are understaffed, overworked and unable to get everything done due to a lack of time and resources. That doesn't work on a daily basis, and it definitely doesn't fly when your company is trying to expand.
Training even one additional employee for your IT department costs thousands of dollars, and there is never a guarantee that they'll even stay with the company. An MSP absorbs the cost of training, and you'll never have to worry about your IT experts jumping ship.
Scaling networks takes significant coordination, manpower and new equipment. It's a huge cost for any company, and it often takes an IT team's focus off other important functions like security. Managed services can help you expand or upgrade systems when you need to, without having to hire and train employees you won't necessarily need later on.
MSPs help your business stay flexible when it comes to resources and can accommodate swift changes an in-house team might not be able to respond to efficiently.
3. Minimized downtime
Downtime most often crops up due to equipment issues. Servers can fail, and computers can malfunction. Electrical disruptions can occur as well. These issues are usually mitigated by implementing redundant equipment that allows systems to switch to a backup when there is a failure.
Unintentional human error accounts for a significant chunk of downtime, and there's not much you can do to avoid it. Employing strong safeguards in critical systems is the best way to reduce the potential risk.
4. A preventive approach
When something breaks, you fix it. With networks and data, however, the cost of repairs can put a big dent in your company's budget. Depending on the size of your business, the cost of a security breach can run into the millions of dollars.
Rather than rushing to call in experts after a disaster has occurred, it's smarter to take a preventive approach by partnering with a managed services provider. They monitor your systems for problems and can resolve issues before they transform into full-fledged catastrophes. The cost savings associated with this approach are one of the top reasons to use managed services.
5. Proven experts
Hiring an IT team is expensive and time-consuming, and you can't know for sure how good they are until they're faced with a serious network issue. Some may pass the test with flying colors. Others may not be able to resolve the problem in a timely manner or at all, costing your company money you can't afford to waste.
Even when your IT staff is competent and comfortable with your systems, you may find they are not well-equipped to operate or maintain new equipment and systems as you add them. The most common issue is that even the most well-trained employees don't have the knowledge and experience of an MSP's large team.
An MSP can provide specialized services to fill in any gaps in your team's expertise. It doesn't make sense to have an employee learn a whole new skill set for a one-time project. An MSP gives you access to a team of experts with precise skills you wouldn't have access to otherwise.
6. Narrowed business focus
What are the advantages of managed services for your IT team? An MSP frees up your IT team for pursuits that are more crucial to your business. The common perception of IT professionals envisions them performing menial repairs and asking whether you've turned it off and on again. While this is true in some businesses, it's definitely an ineffective use of IT resources.
If your internal team is swamped with helping users fix basic issues or dealing with equipment malfunctions, they don't have the time or focus to work on projects that push your business forward.
Managed services can help by redesigning workflows, upgrading equipment and automating certain tasks. This takes the pressure of daily processes off your team so they can focus on innovation.
7. Data compilance
Your company's data is subject to a litany of regulations designed to keep information secure. Your team has to sift through the hundreds of current standards and regulations and figure out which ones apply to your company. They also have to ensure every one of those applicable rules is followed to the letter, all while performing their day-to-day work.
The Payment Card Industry Data Security Standard (PCI DSS) and Health Insurance Portability and Accountability Act (HIPAA) are the most widely applicable standards businesses have to meet. The consequences for violating these and other standards are hefty fines and reputation damage that some businesses might not be able to overcome.
A managed services provider handles the complexities of compliance and auditing, so you don't have to worry about violating data security regulations. They can also run reports and conduct audits that prove your organization is meeting all requirements. This can save your in-house team thousands of hours in the long run.
8. Reliable relations
The ongoing relationship with an MSP has several benefits. Managed services act as a partner for your in-house team and a bridge between you and technology vendors. They serve as a single point of contact for your business and become familiar with your company over time.
A trustworthy MSP is a valuable partner in helping your business grow, not just a service you call when something breaks. They have a vested interest in keeping your networks and systems healthy and delivering insights you can use to help your bottom line.
9. 24/7/365 Support
Managed IT services use remote monitoring technology to keep an eye on your systems day and night. Real-time alerts mean any problems that occur can be corrected before they have a noticeable impact on your business.
Without constant monitoring, it's easy for a network issue to happen during off-hours. If a system goes down in the middle of the night, it might take some time before anyone finds out. In some cases, the problem isn't discovered until the next day — after significant damage has already been done. Remote monitoring allows your MSP to take instant corrective action as soon as they receive an alert.
10. New Techelonogy
Technology itself is one of the biggest costs in IT. There's always an equipment upgrade to be had, and it can be tough to discern which ones are right for your business. There are few things more frustrating than investing in new network infrastructure only to find it doesn't meet your needs — or your team doesn't know how to operate it correctly.
One of the major benefits of using managed services is the constant access to up-to-date technology. You'll never have to worry about your systems being outdated or making an investment that doesn't pan out. The cost of system upgrades is rolled right into your MSP fee.
11. Reduced risk
Every business faces risks due to government regulations, financial conditions, market conditions and evolving technologies. Many companies have to comply with privacy laws and regulations from PCI DSS, ISO and other organizations. In addition, a successful cyberattack could cause financial and reputational damage to your business, causing you to lose profits and customers.
Using an MSP for your IT services can help your business mitigate some of these risks and protect your assets. MSPs understand the security challenges and regulations of your industry and can help you meet them. Their expertise can help you keep up with changing regulations while having a reliable defense against security issues.
Managed IT services are proactive, meaning you can also reduce your risk of becoming the victim of a breach. Your MSP can identify vulnerabilities and put the appropriate defenses in place to mitigate them. A secure system can build your trust with customers, encouraging them to do business with you.
12. Focused energy
Managed services for IT make it easier to do your job. You can trust your MSP to provide the knowledge and expertise necessary to improve your security while you focus on your core business efforts and goals. If you have in-house IT professionals, an MSP can assist with day-to-day tasks and projects like: